Everything Local Businesses Need to Succeed Online
Grow your reach. Grow your sales. Grow your business.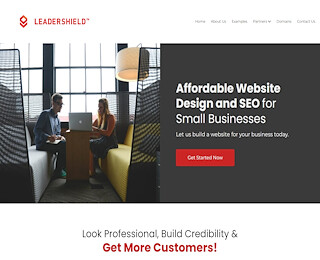 Information about your business can be found across the internet. At LeaderShield, our online listing help in Houston offers an excellent way to claim, update, and fix business listings across several directories and websites. We will ensure that your business information available online is accurate and up-to-date.  With this, anyone searching for your business will be provided with correct and accurate info.
What's more, our online listing help in Houston involves reviewing and managing your business information across top websites, directories and apps from time to time. This keeps you in control of how your business listings are seen online. Whether you are looking to keep your online information complete and accurate on websites, directories, or voice searches, such as Alexa, Siri, and Google, we are the perfect fit to help you out.
Let Us Help You Take Control of Your Online Listings
In recent times, consumers take to the internet to find information about any business. Through our online listing help in Houston, we can help correct, protect and take control of your business information over the internet. Some ways we can help take control of your online listings include:
Identify the Hot Spots in Your Niche
We will take time to identify the places and websites that your target audience usually turn to, anytime they need to search for information about business in your industry or niche. This will give us an idea of the information your business has out there. With this, we can take adequate steps to control it.
Claim Your Listings
Claiming your listings offers an excellent way to take control of the information about your business available on websites and directories. We will update your contact information and upload photos about your business or brand. We will also provide updates about specials offers and promotions. Highlighting discounts, promotions, sales and many more can help turn your listings into marketing opportunities.
Keep Location Information Up-To-Date
Publishers such as UrbanSpoon, TripAdvisor, and so forth rely on the information on your website to populate their platforms. We will ensure that your contact information is correct and up-to-date on your website. This way, we can avoid any case of inaccurate information.
Provide Data Aggregators with Location Information
At LeaderShield, we are aware of the fact that collecting and publishing information across the web is stressful and time-consuming. We will provide information about your business to data aggregators. These data aggregators will provide top publishers with relevant information about your brand. Thus, keeping your listings up-to-date.
Encourage Reviews and Recommendations
In addition, we understand the effect of social media on search results. We will encourage your customers and followers to interact with your business on your social media platforms. We will also encourage them to share feedback and reviews on sites like Foursquare or Yelp. Thus, providing potential customers with quality, user-generated content about your business.
Contact Us Today
Let our experts at LeaderShield help you take control of your online listings. Our online listing help in Houston is the right way to go. Contact us today to know more about our services. An amazing experience awaits you.
Online Listing Help Houston
Related Post
Do you know the likely results when your business is searched online? Every business or brands need an online presence. However, it is essential that the online presence contains positive reviews and mentions. Anytime you need experts to help monitor and manage all aspects of your online reputation, always turn to LeaderShield. We provide detailed reputation management in Houston TX.
At LeaderShield, we specialize in monitoring and managing every aspect of the online reputation of many business and brands. Our experts will help monitor what is being said about your business online including listings, reviews, mentions and so forth. Our top-notch reputation management services are just the ideal way to manage and build the positive online reputation your business deserves.
What's more, we understand that negative comments, bad reviews, and blog posts can ruin the online reputation you've struggled to build over the years. Hence, we use certified and trusted measures to manage your online reputation. With this, we can help you and your business monitor and retain the positive status and character it is renowned for.
Reliable Provider of Reputation Management in Houston TX
Our online reputation and image affect every aspect of our business. Securing employment opportunities, getting lucrative business deals, attracting business associates and clients are some of the things your online reputation can put on the line. Our reputation management services at LeaderShield is perfect to help your business retain a positive online image at every point in time.
In addition, we will help monitor, protect and manage your online reputation regularly. We will make positive information about your business available to prospective searchers. This involves creating blog posts, articles, contents, and commentaries that speak positively about your business. We will also provide suitable answers to questions about your business or brand. You can always count on us to create positive contents that show the good things your business stand for.
However, there may be cases that we may not be able to remove negative comments about your business online. We will help create positive content which will drive down these negative contents. Our expert team will set up an automated alert for your business. This will enable us to monitor any new content or posts about your business. With this, we can monitor what is being said about your business and take appropriate actions.
Contact Us Today!
The internet is the first place anyone who intends to know about your business will turn to. Neglecting your online reputation is not a good idea. It is something that can affect your business. You can always turn to LeaderShield for your reputation management in Houston TX. Our team will ensure that your online reputation and image is well monitored, managed, and protected.
Contact us today at LeaderShield to know more about our reputation management services. Our experts will be available to speak with you and discuss your needs. We are the ideal company you can always count on to help your business protect, maintain, and manage its online reputation and image. We guarantee you excellent services.
Opinions have always existed, and it is inevitable that a human being makes a purchase decision without hearing a second opinion. Nowadays, on the Internet, the judgment of people who use a good or service has gained significant relevance for businesses. A company that receives excellent reviews can gain privileged positions in an organic search.
Search engines give much relevance to what users have to say about a business, especially at a regional level. One of the pillars of an excellent Local SEO strategy is to get good reviews for companies. It is essential that you understand this strategy, and how to implement it and convert it in a powerful weapon in your favor.
What Is A Review Anyway?
A review is a positive, neutral or negative assessment of a user's experience having gone to a business, or having used a product or service. Generally, the platforms that request these evaluations ask the user to leave a comment that explains their experience having interacted with that company.
Many directories can request a review, but for this opinion to help you gain relevance, you must ask it through Google My Business. These user reviews are useful for both users and businesses. Users will be able to learn about the best places to meet their needs. In the case of companies, the more positive reviews you get, the better positioned you will be.
An Efficient Strategy
If you manage to develop a strategy that encourages your users to do the reviews, your business will be able to scale important positions in Google rankings. However, for the results to be satisfactory, it is necessary to do things right. First of all, all your reviews must be authentic. If you try a false reviews campaign could bring you problems, even penalties from search engines.
Even if Google tries to consider only positive reviews, you will unavoidably get some adverse comments. In that sense, it is not recommended that you delete these reviews. There are "Marketing of Services" techniques to handle an unhappy customer, such as "service recovery". Apply compensatory measures to your annoyed customers and then ask them to review again. That will help your audience adore you.
How to Achieve Awesome Reviews
For you to get the users' opinion to play in your favor, you must first make sure that they have a sensational experience within your business. Also, if you want to get the best reviews in Houston TX, the wisest thing is to have the services of an excellent digital marketing agency, like LeaderShield.
It would be best if you established different tactics to encourage the client to write the evaluation. A good strategy is to offer discounts or promotions as long as they evaluate the experience. If your Social Media movement is high, you can also encourage them by publishing their photo on Instagram and making them part of it (the current client loves to feel part, feel included and spoilt). In any case, an exceptional marketing company will analyze your business, your market and help you decide which are the most effective tactics for you to succeed.
Count on the Best!
If you want to boost your business through an outstanding strategy of reviews in Houston TX, you can count on our extensive experience. We are the best Digital Marketing agency in Houston, and we are ready to take your business to the top. Our creative team will design for you a completely tailored solution so that your clients love you, and your company has the best opinion of your local public. Contact us.
LeaderShield
2817660260
4606 FM 1960 Rd W, Suite 400, Houston, TX 77069
View Larger Map
We welcome your comments!